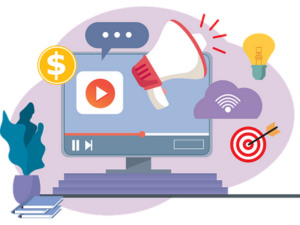 Whether you're a new business owner or have years of experience, establishing a digital marketing strategy takes knowledge and time. 
With these tips, you can launch a successful digital marketing campaign and see your online presence skyrocket!
Start with Research into Your Customers and Your Niche
You can't set an effective strategy without research:
Brand Voice: Look through your existing content for consistent branding across all platforms. Inconsistent branding confuses customers and looks unprofessional.
Customers: Do you know who your potential customers are? Do you know what they buy, where they visit online, and what their values are? Know everything you can about your target audiences so you can communicate with and convince them.
Differentiator: Know what your competitors are doing and how your product or service differs from theirs. When you communicate how your product is different, customers find making a decision easier.
Blogging As Part of Your Digital Marketing Strategy
Digital marketing for small business owners relies heavily on blogging. Blogging takes time but provides long-term, free marketing for your business. In addition, it establishes you as an expert and drives traffic to your website. 
Optimize your blogs for search engines using the best SEO methods. If your website ranks low, it won't receive the traffic you need. 
Ensure your blog content is high quality. Focus on long-form content, edit it well, and add a variety of supporting media like videos, pictures, polls, and more.
Social Media Ads
It's likely most of your customers frequent a social media platform. Buying ad space on these platforms is a great way to increase your reach. Ensure the content is engaging and relevant.
Video content performs well on social media sites. Videos increase engagement by 1,200%, and every major platform supports videos.
Email Lists
Though several decades old, email marketing remains among the strongest marketing techniques available. Spend time building an email subscription list. The key to a successful email list is providing exclusive content to entice prospective customers to subscribe.
Influencer Marketing
Social media influencers know how to cultivate a dedicated and enthusiastic following. As a result, even minor celebrities' promotional materials have an excellent return on investment.
Whether you need to pay the influencer for their sponsorship or work out a different deal, finding the right influencer means you earn your money back and more.
Prioritize Reviews for Customer Trust
Over 77% of customers look at reviews before they buy a product or service. Good reviews establish trust and create loyal customers. To improve your reviews, focus on the customer and provide them with an excellent experience.
Reviews also provide insight into what your customers like and dislike. Use them to measure your success and adapt your strategy. Part of your marketing strategy should include regularly asking for reviews.
Mastering Digital Marketing
Now that you have all the tools to succeed at digital marketing for small business owners, it's time to transform your business. You might not get it right initially, but your business and customers will benefit from your digital marketing efforts if you adapt and keep learning.